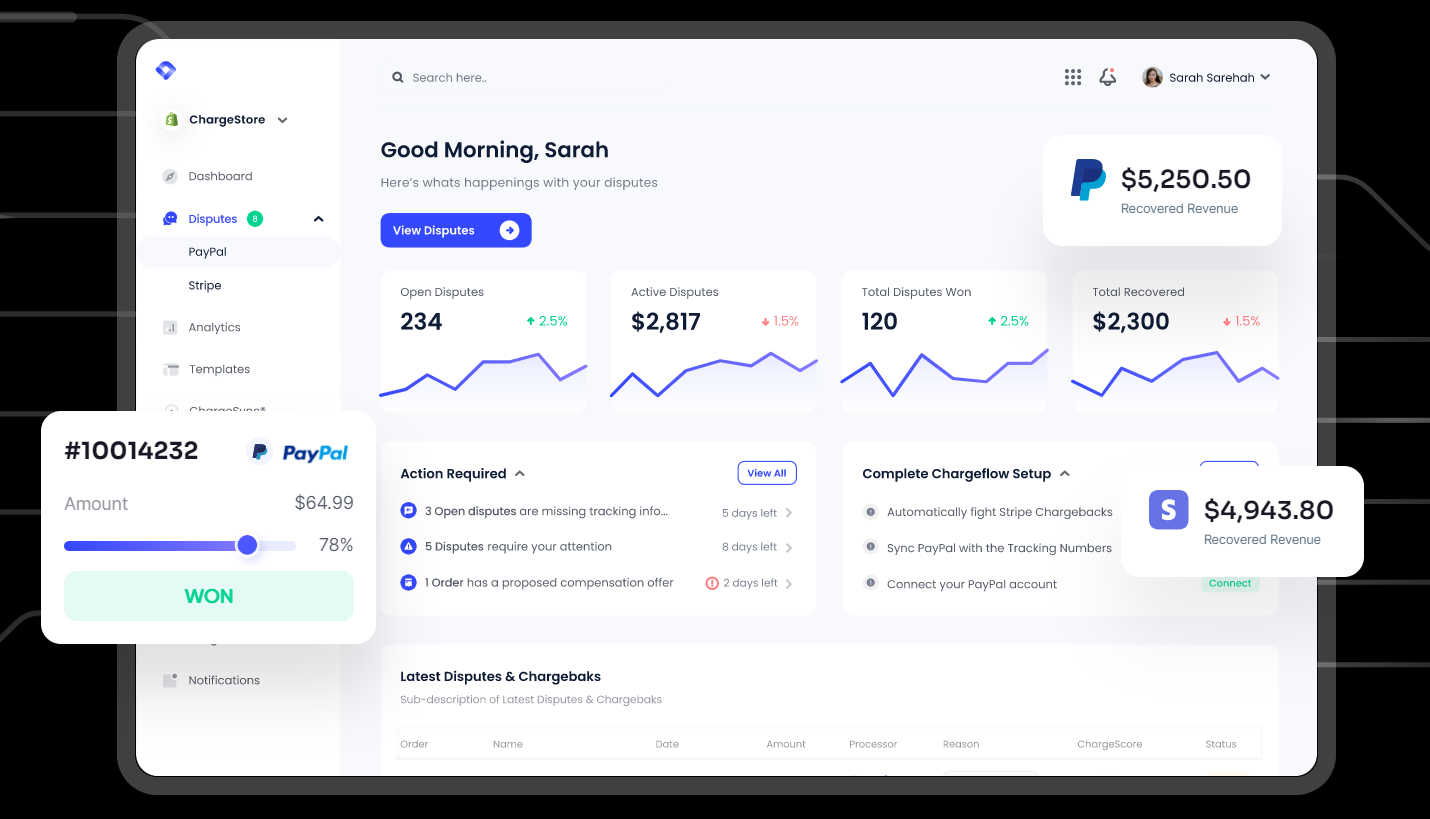 Imagine never having to deal with a single dispute or chargeback ever again.
Imagine running an eCommerce business where you only focus on growing, not on making sure you don't crash and burn all the time.
This Chargeflow review will show you how what I've just described is easily obtainable.
What you're about to see is a complete review of a chargebacks management service that completely automates the dispute and chargebacks side of your eCommerce store.
So far, no other service has achieved the same level of automation regarding chargebacks as Chargeflow.
This is exactly why you need to check out this Chargeflow review and find out how any business, big or small, can benefit from it.
How Does Chargeflow Work?
The main goal of Chargeflow is to win disputes that your customers initiate on orders they've purchased from you.
As you may be aware, losing too many disputes and receiving too many chargebacks can result in serious consequences.
You can get banned from your payment provider and lose a lot of money in the process.
Chargeflow makes sure to significantly increase your win rate on all disputes that you receive. During this process, you aren't required to lift a single finger. They take full responsibility and take care of everything for you.
Here comes the best part about this entire Chargeflow review. All eCommerce chargebacks that Chargeflow takes part in are initially free of charge. You don't pay anything upfront. Instead, the company only takes a small fee after winning a dispute.
Discover top dropshipping suppliers of original US/EU products
You're 2 minutes away from building your ecommerce empire
No credit card required. No commitment.
Get started for free
Chargeflow Main Features
Chargeflow isn't overflowed with many sparkly features that offer no real value. Instead, the platform offers a small number of highly efficient tools that are designed for one thing only – to increase your store's ROI.
So, let's see how it does this.
Seamless Store Integrations
Chargeflow makes it ridiculously easy for you to integrate your online store with their software. Instead of having to go on boring sales or integration calls, you just click a few buttons and you're ready for the next step.
ChargeScore®
Chargeflow's ChargeScore® system securely analyzes your account's data and history to determine your rate of success for any particular dispute. It neatly shows what the probability for you to win this dispute is.
ChargeResponse®
ChargeResponse® is another one of Chargeflow's technologies. It gathers hard evidence from over 50 data points to create a high win rate dispute response.
It's the final step of the process. Once this is complete, the response is sent and all you have to do is wait to hear if you've won or lost the despite.
Automated Dropshipping Chargebacks Management
After you've connected the Chargeflow platform and your online store, this service has everything it needs to take care of things from here.
Here is how Chargeflow's chargebacks automation process works:
Step 1: First, Chargeflow instantly pulls new disputes from all dropshipping payment gateways that are connected to your dropshipping store. This happens in real-time and there is no delay after a dispute has been issued.
Step 2: Second, you receive a ChargeScore® rating that shows you what your chances of winning the dispute are.
Step 3: Third, a ChargeResponse® is created, which is what will be sent to the bank and is what will be reviewed to determine whether you win or lose the dispute.
Chargeflow's ChargeResponse® is actually pretty incredible when you break it down. It secures data from over 50 sources and automatically generates a response to contest the dispute and win it, securing your funds.
Step 4: Then, Chargeflow actually goes ahead and human-proofs every single ChargeResponse® it generates. This ensures there are zero mistakes and incredibly low chances of failure.
Step 5: Finally, you get a highly increased chance of winning the dispute. If you win, Chargeflow takes a small fee for the service. If you don't win (which rarely happens) the company doesn't charge you anything.
PayPal Dispute Automation
Anyone who has ever had to deal with PayPal disputes knows that they are not as simple or as easy as normal chargebacks.
This process is longer and more complicated. Luckily, the Chargeflow PayPal chargebacks automation takes care of this anxious process for you.
In fact, Chargeflow is the only service in the world that fully automates this process.
Here's how it works.
Step 1: You integrate Chargeflow with PayPal in a few clicks.
Step 2: You're done. 😄
That's really all there is to it. Once you've completed the integration, you can sit back and let Chargeflow do its job. It will automatically take care of any and all disputes as soon as one pops up in the dashboard.
Best of all, if you feel like you can do a better job than Chargeflow, you're free to handle the dispute yourself and tell Chargeflow to sit back for this one.
Stripe Chargebacks Automation
If your store is using the stripe payment gateway, there's no better eCommerce chargebacks solution than Chargeflow.
Considering Stripe is a different company from PayPal, the entire dispute and chargeback process is different here. So, a new integration is required.
Luckily, this one is even simpler. Chargeflow allows you to integrate these platforms in two clicks. After that, the entire chargeback management process is fully automated.
Additionally, Chargeflow also allows you to personalize all of your chargeback responses. By doing so, you can create unique responses that can benefit your brand identity.
Shopify Payments Integration
Chargeflow is also the only service that can fully automate the Shopify chargebacks on stores that use Shopify Payments.
The entire process is almost identical to the other integrations. You integrate with a few clicks and that's it. Chargeflow's AI and employees handle the rest.
Chargeflow Integrations
Currently, Chargeflow supports six third-party integrations. All of their integrations aim to help merchants with their disputes and chargebacks.
They also facilitate the process for stores that deal with subscription-based payments.
Best of all, all of their integrations are effortless to set up, even for someone who's never integrated two platforms ever before.
Chargeflow Pricing
Without a doubt, the best thing about Chargeflow for anyone on a minimum dropshipping budget is that it doesn't charge anything upfront. It offers purely a success-based pricing model.
This means that Chargeflow will only take a small fee off of every dispute they win for you.
There are two pricing tiers, Success and Enterprise.
The Success pricing model takes a 20% cut-off of all of the disputes that the service wins for you. When you think about it, it's always worth it, considering they actually save you money in the long run.
This plan doesn't include any set-up fees and is 100% free upfront.
The second plan is called Enterprise, and this is a fully custom solution designed to serve bigger businesses.
This plan offers many more features, and more advanced solutions, but requires you to have a much larger revenue.
It is definitely worth considering once you've scaled your store.

Chargeflow Pros & Cons
From what we've seen so far in this Chargeflow review, it's safe to say that this service has many more pros than it has cons. However, let's examine the full chart and find out if that's actually the case.
Chargeflow Pros
No upfront setup fees ✅
100% automates your chargebacks representment ✅
Includes PayPal, Stripe, and Shopify integrations ✅
All integrations are absolutely seamless and quick ✅
Offers an enterprise solution for big companies ✅
It uses the best-in-class SSL encryption ✅
Chargeflow Cons
A 20% cut may be a bit too high for some stores ❌
It currently doesn't integrate with too many payment gateways such as Skrill ❌
Find winning dropshipping products & spy on your competitors
Minea analyses all online advertising to help you find the best products to launch, and the best creatives in your niche in just a few clicks.
Use coupon: DROPSHIPPING30 and get a 30% discount
💡Try Minea For Free
Chargeflow Review Summary
This covers the main concerns that anyone should have with a chargebacks management service. If you currently don't have that many disputes, then you're lucky.
However, more and more disputes are bound to occur, it's just natural. When that happens, anyone would definitely benefit from having the Chargeflow eCommerce chargebacks automation tool.