With all the frenzy around the most popular print-on-demand dropshipping companies like Printful and Printify, some really good but not-so-popular print-on-demand businesses are often overlooked. One such business is TeePublic.
But this article provides a review of TeePublic, i.e., a detailed TeePublic review 2023, meaning that it includes everything you need to know about the company. And we hope it can help you work out whether TeePublic is worth your time.
Now that we have revealed what we are going to include in our TeePublic review, let's get down to business.
What is TeePublic?
TeePublic is a print-on-demand company. It enables people with artistic and creative skills to sell their work without having to deal with inventory, order processing, shipping, or customer service.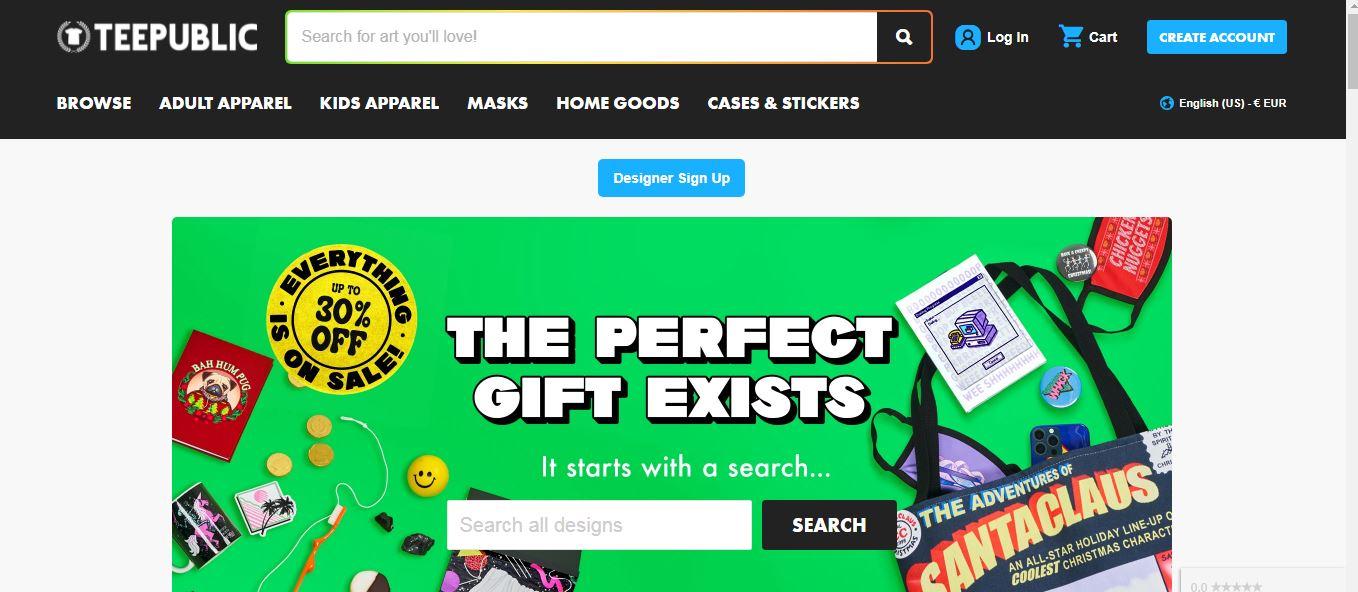 In brief, it is actually a marketplace for independent artists to upload their designs and customers from all over the world to buy them.
Though it is a marketplace for independent artists and designers, customers never deal with them directly.
Moreover, it's TeePublic's responsibility to handle the printing, manufacturing, and shipping as well as deal with customer service.
As you can see, unlike Printful or Printify, TeePublic is not a print-on-demand dropshipping supplier. But it is a marketplace where you can sell your own designs printed on TeePublic's quality products.
And thanks to its multiple fulfillment centers, TeePublic will ship your products directly to your customers.
This means that by working with this print-on-demand company, you will be involved in some kind of dropshipping because you do not manufacture nor store the products you sell online.
Let's jump to our TeePublic Review 2023!
Discover top dropshipping suppliers of original US/EU products
You're 2 minutes away from building your ecommerce empire
No credit card required. No commitment.
Get started for free
TeePublic Review: General Overview
There are about 1.2 million designs across 75+ different product types on the marketplace.
As a designer (who is planning on selling on TeePublic), you can create your own storefront, upload as many designs as you want, build an audience, and make money without ever having to deal with the business side things.
For you, this might sound a bit confusing. Therefore, in this TeePublic review, we will try to make this clear to you.
Is TeePublic Safe?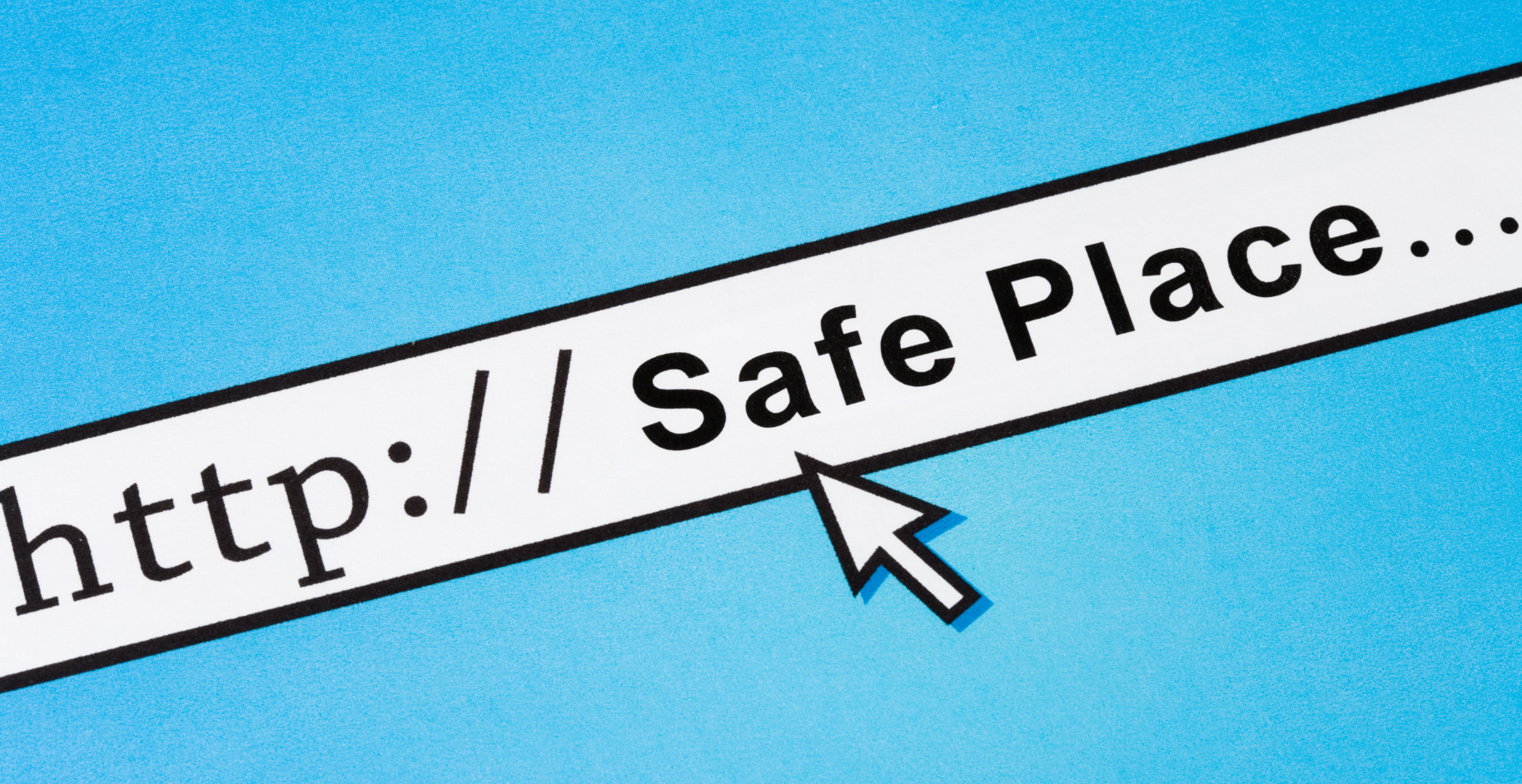 As we say, safety first! So, is TeePublic safe? Absolutely YES. This amazing platform is safe to use for artists, customers, and dropshippers.
For Teepublic's safety, the customer reviews speak a lot. 8.2 million visitors in the previous month? That's amazing!
Furthermore, according to the data found on Trustpilot, TeePublic reviews show an excellent online reputation with more than 160,000 reviews. It has an average of 4.4 stars, to be precise. Not bad for an online marketplace.
Let's take a look at another great digital platform for online reviews. On Sitejabber, TeePublic reviews show a 4.5-star rating from 2,000+ reviews.
What this speaks to you as a dropshipper is that the majority of customers are generally satisfied with the quality of the products, and TeePublic services. This is a PLUS for you.
However, the only thing you should consider is that their turnaround time can be long, so you should plan when to place your order.
Is TeePublic Legit?
Having said that, we have to admit that it is totally understandable if you ask yourself something like, "Is TeePublic legit?".
But, yes, it is a legit, scam-free, and reliable online marketplace based in New York. Owned by Redbubble (a global online marketplace for print-on-demand products with headquarters in Melbourne, Australia, but with offices in Berlin and San Francisco, as well), TeePublic has been in business since 2013.
Moreover, this platform is a great marketplace for custom-designed items like t-shirts, hoodies, sweatshirts, masks, wall art, mugs, pillows, totes, phone cases, stickers, and more.
Again, independent designers and artists are responsible for the creation of all the designs found on the site.
But TeePublic is responsible for everything else (manufacturing, printing, delivery, etc.) Thus, customers always receive the same quality products across all designers.
Now, let's dive into more detailed info about TeePublic Review 2023.
TeePublic Review: Key Features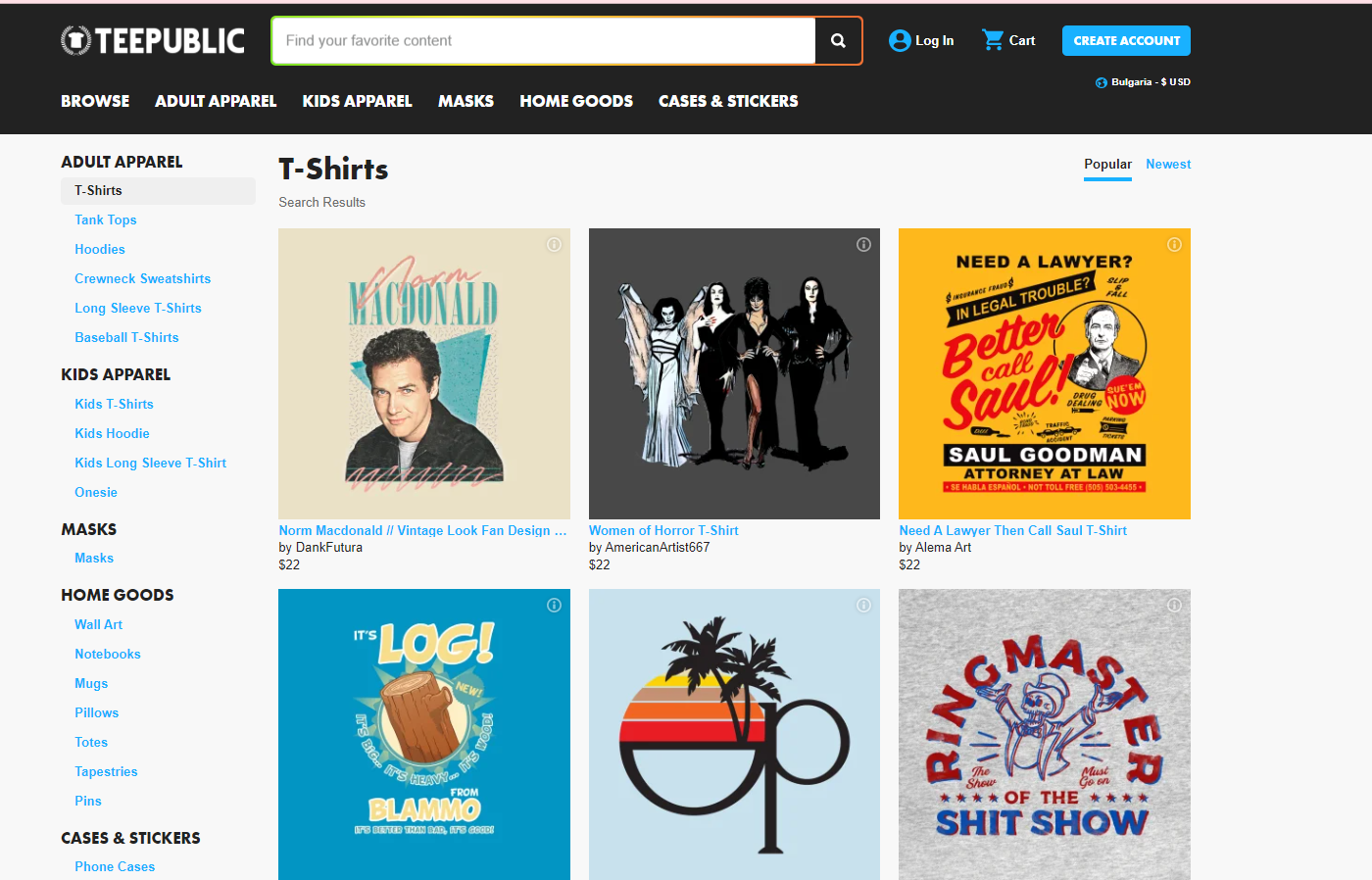 Artists and designers can use TeePublic to develop and sell designs on a variety of items. The artist receives a royalty for his efforts when people purchase the goods. TeePublic offers over 100 items, like
T-shirts
Phone cases
Laptop cases
Hoodies
Stickers
Mugs
Tank tops
Notebooks
Furthermore, TeePublic offers order fulfillment and shipping services through third-party service providers.
This is not all. Using this platform you can also benefit from these features:
Make a Teepublic storefront
Set your own pricing and discounts on completely customizable merchandise.
Earn commissions on any sales generated by your storefront.
Get unique access to the artist community, which may assist you in advertising your dropshipping business
Quick SEO indexing
Uploading is fast and simple.
Quick production and delivery
Bulk uploader tool
However, let's see more of the key features from this TeePublic review.
Ecommerce & Marketplace Integrations
As a matter of this fact, you should know that TeePublic does not integrate with any eCommerce platforms ( Shopify, WooCommerce, BigCommerce, Wix) since it is a standalone marketplace.
Also, there aren't any marketplace integrations as well, like integrations with eBay, Amazon, Etsy, etc.
However, TeePublic allows you to use external linking.
TeePublic Review: Pricing
You can join, upload, and sell your items on TeePublic for FREE.
However, product pricing changes since the items have a discount price and a normal price.
The discounted price applies while you are showcased for the first 72 hours or when there is a site-wide sale. However, the standard price remains the rest of the time.
Delivery charges vary depending on the weight and amount of items purchased, but normal shipping starts at roughly $6.99, while international shipping starts at $7.99 and escalates with more items.
TeePublic Review: Shipping Info
Our TeePublic reviews would simply be incomplete without a mention of the marketplace's shipping terms.
Namely, TeePublic's order fulfillment partners ship from multiple locations across the United States, Europe, Canada, and Australia.
Most of its order fulfillment partners are based in the USA, including Arizona, Florida, California, New Jersey, Iowa, Michigan, Minnesota, Texas, etc.
Some are based in Europe, including the Netherlands and the United Kingdom. Sure, some are also based in Canada and Australia.
And they ship to many countries worldwide. Shipping times vary depending on the product type and the delivery location.
But, on average, shipping generally takes anywhere between 4-10 business days.
How To Get Started & How To Attract New Customers To Your TeePublic Storefront?
Now that you have taken our comprehensive TeePublic review 2023 into consideration, you need to decide whether you want to get started with TeePublic.
It is not difficult to start selling in the marketplace. If you want to do so, simply follow these steps: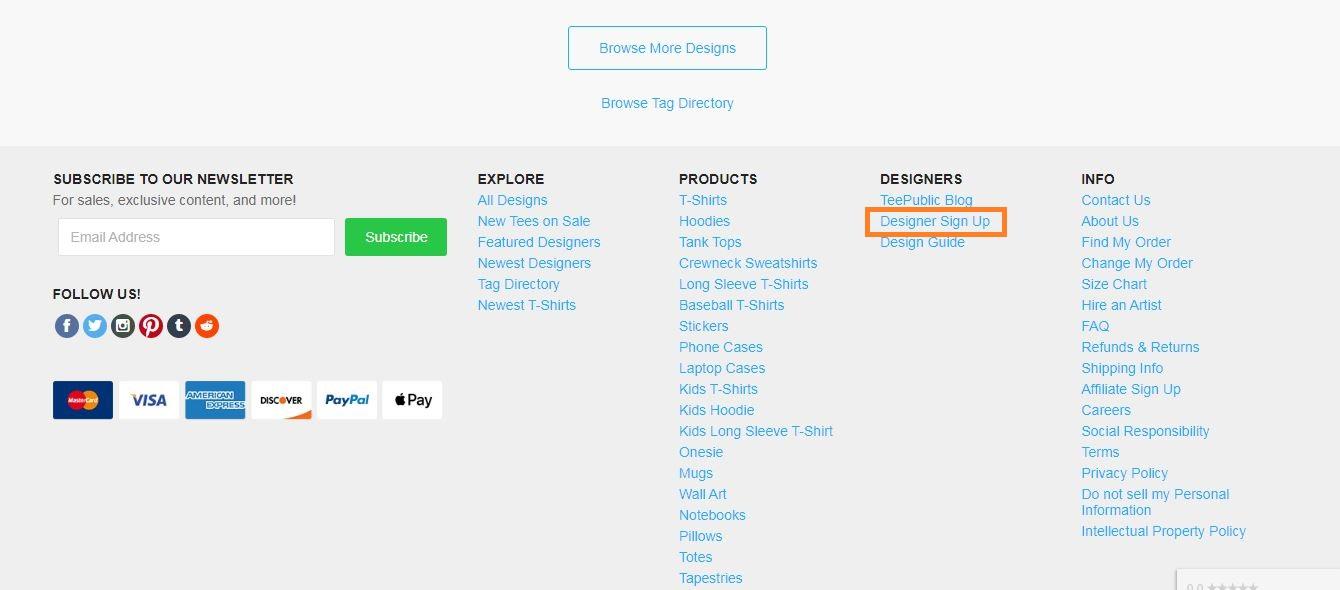 1. Sign up
Go to TeePublic and then click "Designer Sign Up". Enter your e-mail and tap "Open My Store". Create a username and a password. Then, tap "Let's Go". And click "Get Started."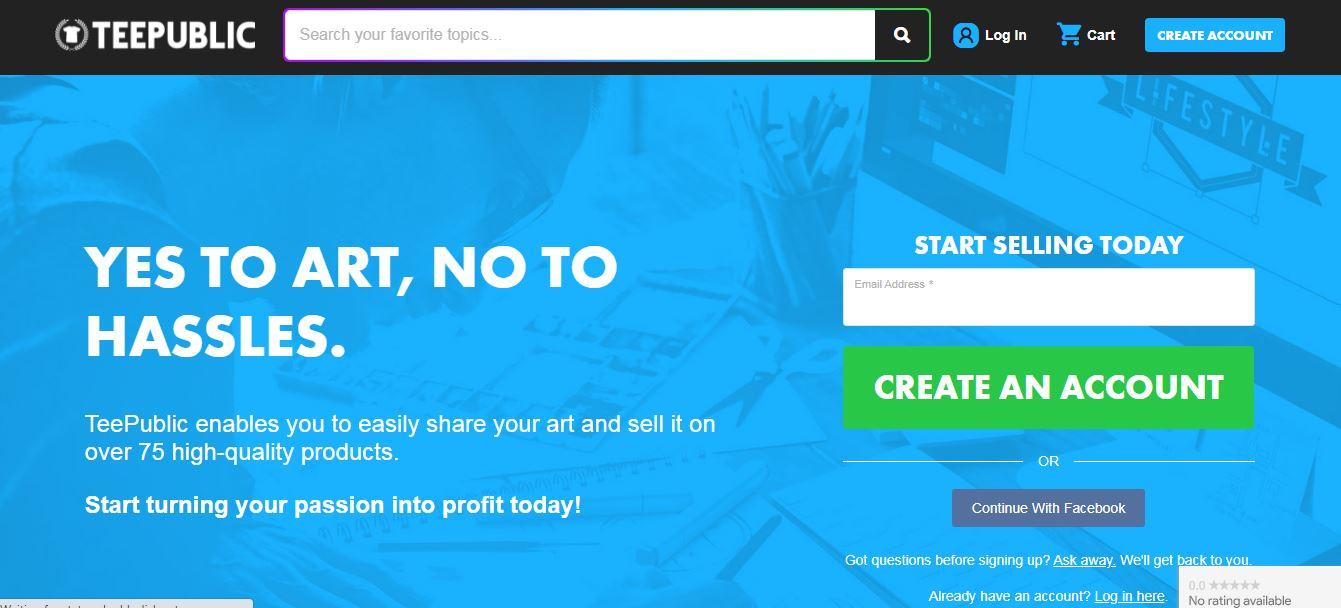 2. Customize your storefront
Now that you have signed up, you need to customize your storefront. You need to choose a name for your storefront, add your profile image and banner photo, and upload your designs.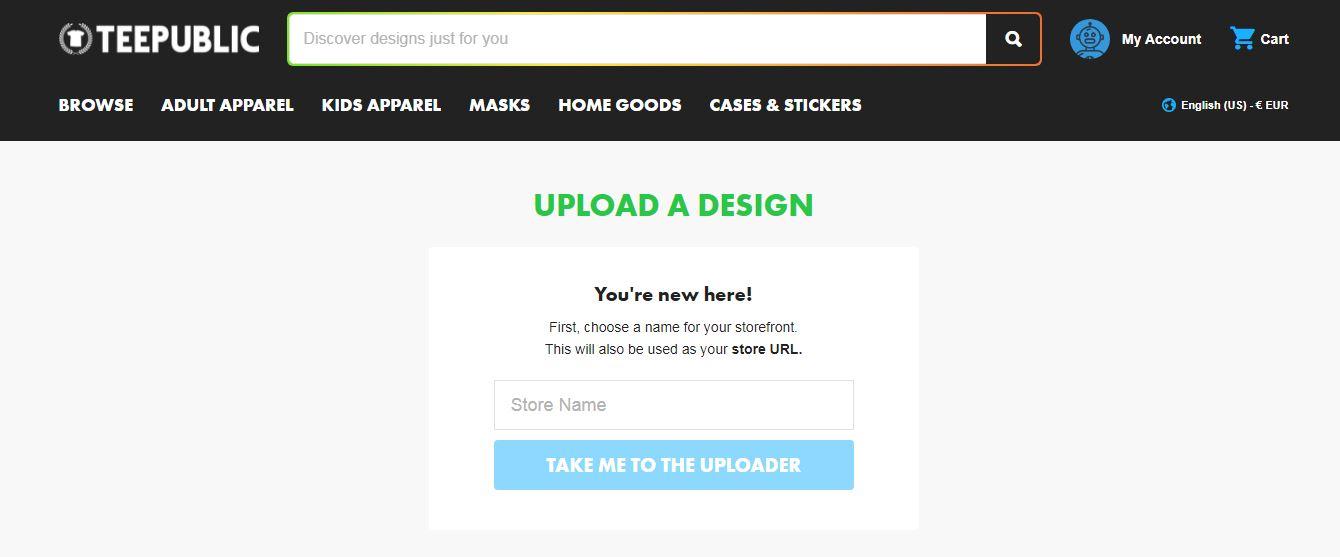 When it comes to uploading your designs, you just need to select them from your PC and upload them on your dashboard.
As long as you like to create many listings at once, you should bulk-upload your designs.
Select the products that you want to see your unique designs on. Also, make sure you write SEO-friendly titles, descriptions, and tags for your designs. And then publish your designs.
3. Promote your listings
Now is the time to bring customers to your storefront. Again, SEO can do wonders for your marketing campaign. Use the right SEO product keywords.
For instance, use some of the following tools for this purpose: Google Trends, SEMrush, and Ahrefs. Here is our ultimate guide to using Google Trends for dropshipping.
Also, do not forget to create Facebook Ads. With billions of active FB users, FB advertising can be an awesome tool to get more people to see your designs.
TeePublic Review: Pros And Cons Of Selling On TeePublic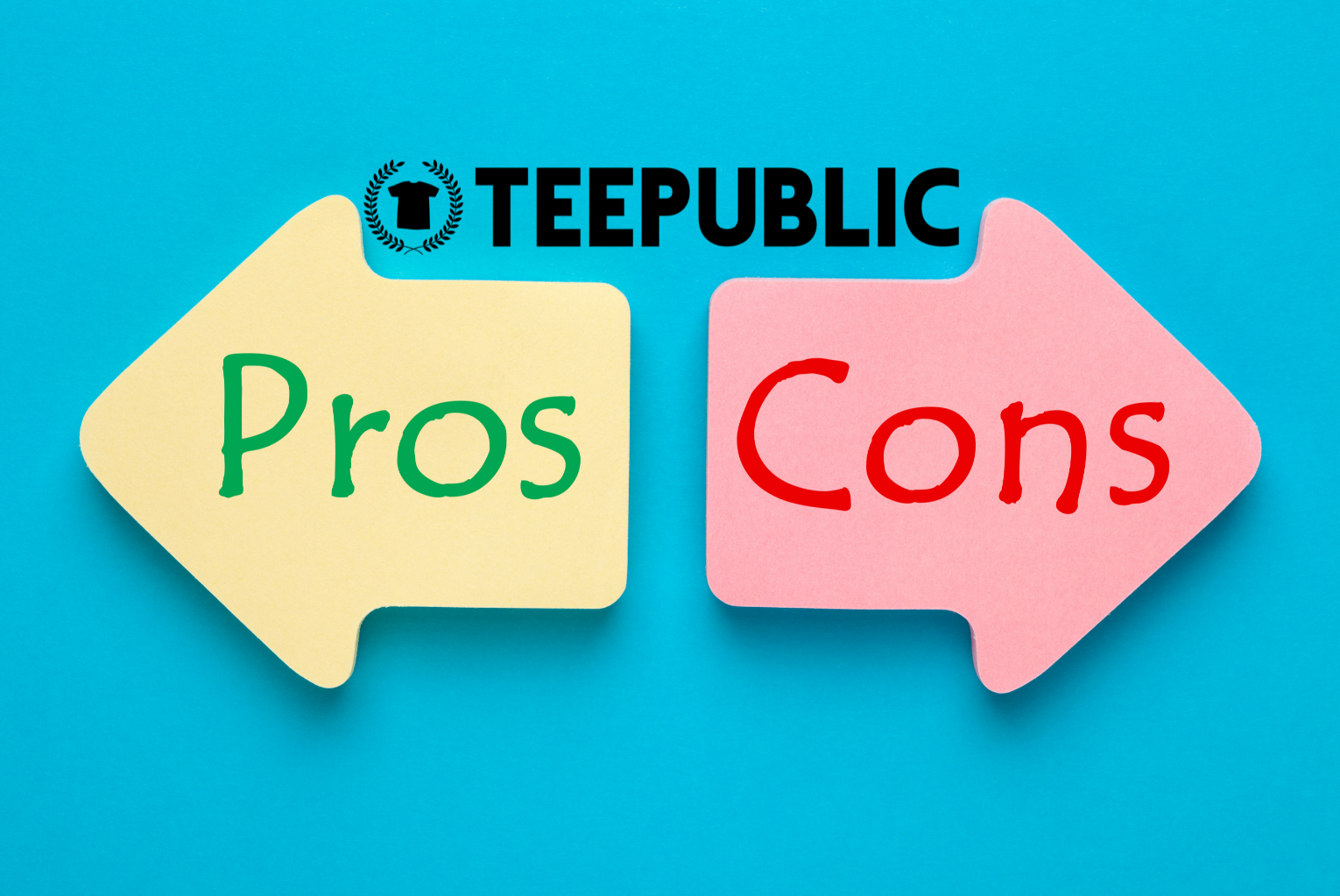 Selling on this online marketplace provides a good business opportunity for you to express your creative side and make money.
Despite this, it is not all good news. You may also face disadvantages when it comes to selling on TeePublic.
Wondering if this marketplace is an appropriate place for you to sell online? If so, check out the pros and cons of selling on TeePublic.
TeePublic Pros
• No start-up costs
Although it is a well-known fact that it takes money to make money, your biggest investment here will be your time and passion.
You can join, upload your designs, and sell them on TeePublic for free. Yes, you read it right. You can sign up, customize your storefront, upload your designs, or sell them without spending a dime.
There is no membership, subscription, or monthly fee on the site. And you should feel free to upload your own ORIGINAL, amazing art to the site. Plus, signing up is quite easy. (Explained previously in this TeePublic review article.)
• Not too much hard work for you
Having your designs printed on t-shirts, mugs, phone cases, and other products is a great way to make some money online.
When your design sells, it is up to TeePublic to fulfill the order and send it to your customer.
To put it another way, you simply need to create a storefront on TeePublic, be creative and create your designs, choose a product or products that you want to see your illustrations or graphics on and bring customers to your store.
TeePublic will handle everything else for you, from printing all the way to shipping to your customers. So, you can create a consistent stream of income without you having to do a lot of work to get it.
• An opportunity for you to help save the planet
Although TeePublic will handle everything for you, it is not a manufacturer. The company does not manufacture its products. Instead, it sources its products from multiple manufacturers.
However, it makes sure that its manufacturing partners use eco-friendly materials in their production processes. Here you can find the best eco-friendly dropshipping suppliers for your business.
To be more specific, the company's apparel items are all certified by WRAP, meaning that they meet safe, humane, and ethical manufacturing standards.
Furthermore, TeePublic's printing partners also use sustainable, non-hazardous, and 100% biodegradable ink. So, by working with this company, you can do your part to protect the environment.
TeePublic Cons
• Setting your own prices is not allowed
In this detailed TeePublic review, we must also mention the cons so that you are aware that in e-commerce (including dropshipping), it is not all roses.
One of the main downsides of selling on TeePublic is that you cannot set your own prices.
The prices of products found on the site are fixed. And TeePublic pays you a flat commission based on what you sell and whether that item is on sale at the time.
As a seller, when you upload a new design to your storefront, it is featured at a sale price for 3 days. After that period, your design stays on TeePublic at the regular product sale price. And you get paid once monthly through PayPal or Payoneer.
• Strict return policy
TeePublic does not accept returns unless a product is damaged. Sure, it accepts returns in case of an apparel sizing issue.
This is considered to be another disadvantage of selling on the site. Though it does not affect you directly as a seller, it might stop a customer from making a purchase.
But considering the fact that you are going to sell/dropship custom-made & print-on-demand products, it is totally understandable that TeePublic does not accept returns.
This seems to be a sensible way of dealing with returns.
• No e-commerce platform integrations
TeePublic is a standalone marketplace. Therefore, it has no integrations with any of the major e-commerce platforms. But you can still start your own website.
And, of course, you can integrate your TeePublic storefront into your own website. First, you need to create a website.
Then, you need to add an external linking button to your TeePublic storefront.
This way, you will direct your visitors and potential customers straight to your TeePublic storefront.
Who Is TeePublic For?
The marketplace is an open platform for anyone who wants to share their creativity with the world.
For instance, if you are an indie designer specializing in funny and unique art, you are free to add your artwork to your TeePublic storefront.
However, you must add and sell your own original designs. Also, you can upload designs that you are authorized to use. You can find out more information on this topic here.
TeePublic vs. Teespring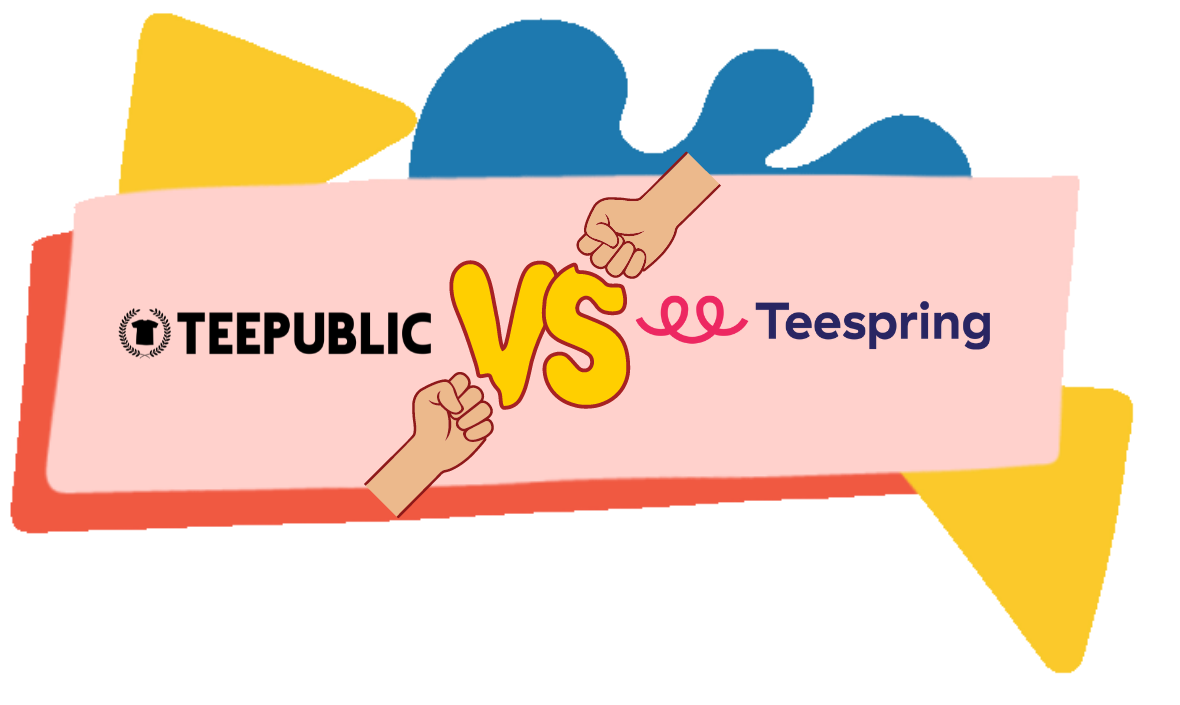 Every print-on-demand service has its own specific features, shipping constraints, and products. So, to assist you in narrowing down your options, we've done a comparative evaluation of Teespring vs. TeePublic.
TeePublic only supports direct-to-garment printing (DTG), whereas Teespring supports both screen printing and DTG.
Teespring offers consumers specialized items, while TeePublic doesn't
TeePublic can provide your dropshipping business with more organic traffic than Teespring, owing to faster SEO indexing.
Teespring is best for short-term exclusive sales or fundraisers, whereas TeePublic is best for long-term income.
Teespring's typical shipping time is 12 business days, whereas TeePublic's is from 4-10 business days.
Both, Teespring and TeePublic, are free print-on-demand platforms. Users only must pay the product's base price.
Teespring and TeePublic feature a large selection of POD goods. Teespring and TeePublic both interface with third-party platforms, whereas TeePublic supports Google Analytics, and Teespring integrates with Twitch, Discord, Instagram, Streamlabs, and TikTok.
TeePublic and Teespring accept all major debit/credit cards as well as PayPal.
They both provide credible analytics.
You may create your online storefront to display products using TeePublic or Teespring.
Both POD platforms offer extensive information as well as timely customer support.
So, overviewing this comparison, and taking into consideration your requirements, you can make your decision about which one is better for you.
TeePublic vs. Redbubble

Next, we will also review TeePublic vs. Redbubble. Let's take a look.
TeePublic and Redbubble both utilize the same printing method. But, according to customer feedback, TeePublic has higher product and print quality than Redbubble.
TeePublic pays a flat fee per product sale, whereas Redbubble pays a fee dependent on the price of the goods.
Teepublic's style is targeted more at video gamers, with an emphasis on the young males who play action games, but Redbubble's reach is broader, attracting those interested in less popular areas of pop culture like independent artists' work and fan art.
TeePublic offers a larger collection and lower costs than Redbubble.
TeePublic's products are also updated more regularly than Redbubble's.
Redbubble may not have as many limits on what you can post and sell, but Teepublic does have numerous restrictions on what you can sell, including copyright restrictions.
TeePublic has a wider client base and offers royalties on products sold.
Each product on Redbubble has a basic price plus a markup for the artist's design. On each sale, the artist earns a commission. Teepublic's pricing system includes a basic price for each product and markup for the artist's design.
They both provide a large range of items, have no minimum order, a satisfaction guarantee, and ship internationally.
Find winning dropshipping products & spy on your competitors
Minea analyses all online advertising to help you find the best products to launch, and the best creatives in your niche in just a few clicks.
Use coupon: DROPSHIPPING30 and get a 30% discount
💡Try Minea For Free
Is TeePublic Worth It?
To sum up, TeePublic allows you to earn some extra cash without you having to work too hard.
Also, it is a low-risk option financially. That is to say, you can start selling on TeePublic for free. And this marketplace is more affordable than other online marketplaces like Etsy.
But do not ignore the downsides of selling on the marketplace.
In this article, we provided you with a full TeePublic review, including giving answers about whether Is TeePublic legit? Is TeePublic safe? Is TeePublic good?
Moreover, in this TeePublic Review 2023, we listed the key TeePublic features, TeePublic pricing, TeePublic shipping, and more!
We hope that you find our comprehensive TeePublic reviews useful.