Advertising Kit
Dropshipping.com
The community of Dropshipping.com subscribers and visitors are always excited to use and learn about new tools, resources, apps, and services to help better their businesses. This community is led by the passion and drive to build, launch and grow high-quality businesses, and to do that they need high-quality resources.
Thousands of dropshippers visit Dropshipping.com monthly to get trusted and vetted advice on high-quality tools and resources they can use for their businesses, and when we discover these kinds of resources we can't wait to share them with our audience.
If you have a tool, resource, app, or service that you think is relevant to our audience and will serve a valuable purpose for them, we'd love to work with you.
However, keep in mind that we advertise only the best resources to our audience to make sure they're truly getting the right tools to help build, launch and grow their dropshipping businesses, and pride ourselves on being a destination for truthful, transparent, and authentic advertisements and reviews.
This means that we uphold our advertising spots to a high standard and only approve advertisements for resources we truly think will be worthwhile for our audience.
Dropshipping.com Stats & Analytics
👉 Current Unique Monthly Visitors: 52,400+ (in just 15 months, organically)
👉 Current Monthly Pageviews: 176,800 (in just 15 months, organically)
👉 Newsletter Subscribers: General List: 12,800+; Ultra Targeted List: 4250+
👉 Members in our Private Community (hosted on Heartbeat): 4600+ (in just 4 months)
👉 Combined Social Media Following: 9300+ People on all the major platforms
To learn more about advertising on Dropshipping.com, check our Advertising Kit below.
Who Is Our Audience?
Our audience comes from all walks of life and is all at different stages of building, launching, and growing their e-commerce businesses. The majority of our audience is truly passionate about the products that they sell and have invested much of their own resources into their businesses already.
Our audience comes to Dropshipping.com for reliable and comprehensive advice on resources that they know will guide them along the best path for their businesses, as they can trust that the resources have been tried, tested, and transparently advertised and reviewed by us.
ADVERTISING OPTIONS
💎 Premium
1. Blog Takeover
2. Welcome Email Subscription Sponsorship
*Read on to find the details about these two options
🏅 Gold
3. Homepage Promo
4. Ecom Tools Banner and Priority Placement
5. Suppliers Page Banner and Priority Placement
6. Navbar Featured Products Placement
7. Reviews, Compare Pages, and Alternatives Pages
8. Newsletter Promo + Listings
Access the Premium Partnership Kit for the Gold Package: https://dropshipping.com/partners/
🥈 Silver
09. Guest post
10. Product review
11. Infographic co-creation
12. Newsletter Mention
13. Interview
14. List your tool
*Read on to find the details about these options options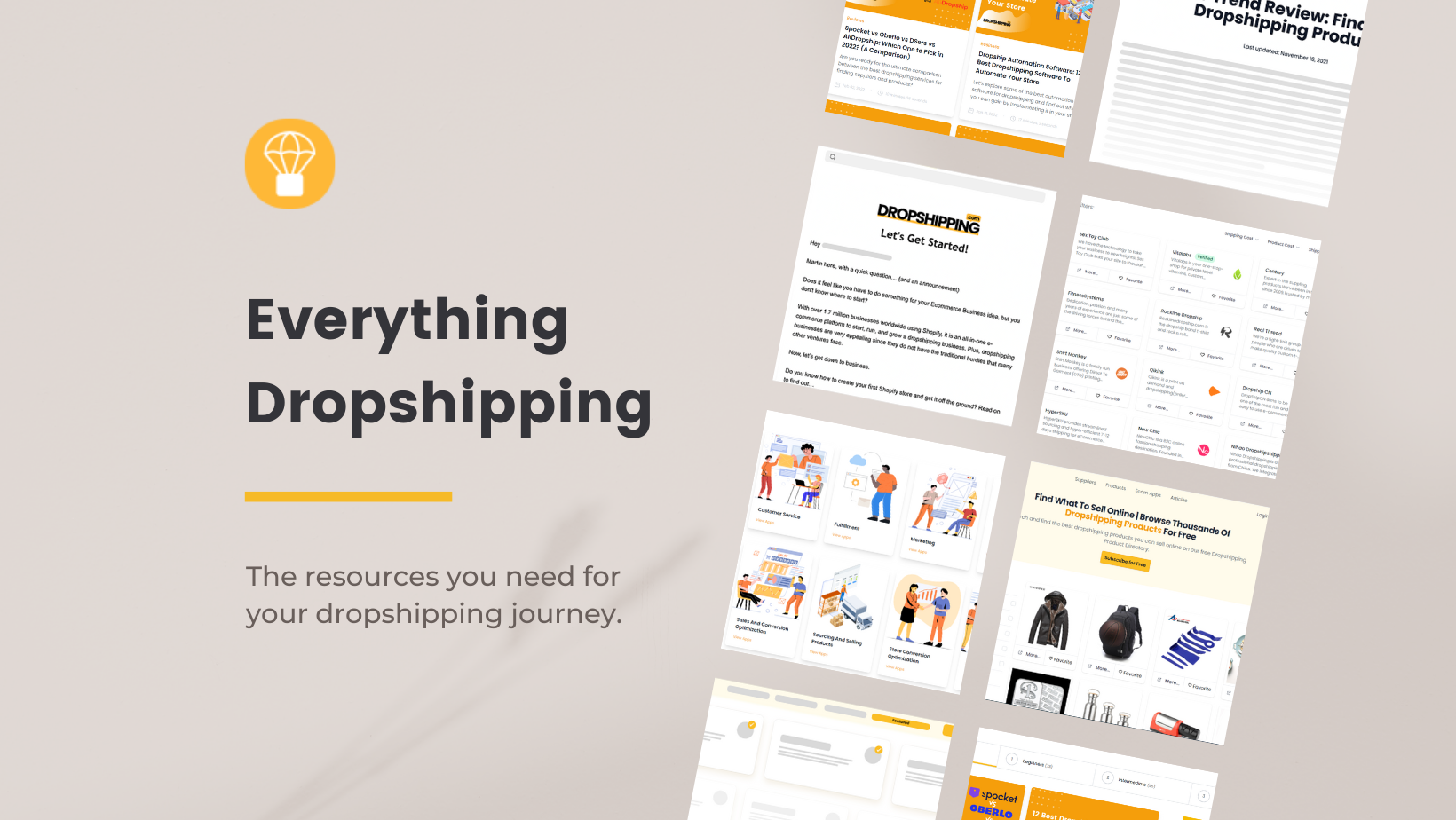 💎 Premium Package
🗞 Blog Takeover
🧑‍💼 Positions Available: 3 spots (for 3 advertisers) available per month
⏱ Minimum Advertising Term: 3 months
Description: Our flagship advertising option is our Blog Takeover. When you purchase the Blog Takeover, your brand will be featured in three central positions on every blog post: the top (before any content), bottom (at the bottom of content), and sidebar (a sticky sidebar ad that scrolls down with the user as they read the content) locations.
In addition, to give your brand extra exposure and increase click-throughs, your top ad will also be shown in several positions throughout blog content. The total number of in-content ads is determined by how long each blog post is but will be shown at least 2-3 times.
If you're looking for the best way to expose your app, tool, service, or resource to hundreds of thousands of e-commerce entrepreneurs each month, look no further.
Ad Creative Specifications
• JPEG or PNG File format
• 75KB maximum file size
• Static images only
• Ad link destination
Additional Notes/ Restrictions
Please note that we reserve the right to deny ad creativity if we deem it to be obnoxious, tacky, or misleading, or if we feel that it doesn't match our audience. In such cases, you'll be asked to offer alternative AD creative or be issued a full refund.
• Links are DoFollow links while following the Google guidelines.
• Based on monthly availability and app/service approval.
PRICE: $990/month
---
🧑‍💼 Positions Available: 5 Sponsors
⏱ Minimum Advertising Term: 3 months
Description: For advertisers who want to get in front of a limited, but more qualified, roster of e-commerce entrepreneurs, we're happy to provide a new advertising option! Our Email Subscription Sponsorship gives you the opportunity to get your product or service in front of our new email subscribers in the very first email they receive from Dropshipping.com.
Upon signing up to the email list for Dropshipping.com and confirming their email address, subscribers will receive an immediate welcome email from us and in that email, you'll be able to showcase your product/service with a short bio and discount offer (together totaling 50-70 words) along with your logo.
While daily subscriptions vary, on average, Dropshipping.com gets 30-40 new validated email list subscribers per day (1000/month).
Why this advertising option is advantageous for you:
We validate emails on the front end so there is no spam, fake, disposable, or bot email addresses allowed on our list. By the time our email subscribers have clicked through the double opt-in email we send them, they've been thoroughly vetted to ensure that they're high-quality subscribers.
Not only are our email subscribers high-quality leads, but they're also "warm" leads. They've shown enough interest to sign up for our email list indicating that they're interested in learning more about entrepreneurship and what e-commerce has to offer.
Your product/service's name, bio, offer, and logo will be included in the first email that our subscribers receive—these emails are known for getting very high open rates meaning that there will be lots of eyeballs on your product/service.
This is an automated email campaign that runs year-round, meaning that your product or service will also be getting exposure year-round.
Additional Notes: We use multiple methods of email address validation including an instant validation checker with up to 99% accuracy in detecting false, fake, misspelled, and spam email addresses, as well as double opt-in validation. This helps to ensure that your message is only seen by real, active, validated, and interested entrepreneurs.
Also, note that as part of this advertising option, we do ask that you provide our audience with an exclusive offer. It's up to you what kind of offer you provide and for how much, but keep in mind that better offers tend to get better traction.
PRICE: $590/month
---
Be promoted where your potential users are!
Dropshipping.com is a growing knowledge center, directory, and marketplace with 50,000+ monthly visitors, large social media following and 12500+ engaged email subscribers.
People visit our platform when looking for suppliers, tools, alternatives, or comparing products.
1. Homepage Promo
Your product will be listed on the "FEATURED" section of our homepage. This section is compiled and rotated with all other premium services.
Furthermore, one of the premium products will be listed on the "hand-picked" company position of our main homepage feed as "Sponsored".
*Also, every week, premium products get a "Featured" listing on the main feed that allows other users to vote for the product, the tool, or the supplier.
PRICE: $490 USD/mo
2. Ecom Tools
Our 'tools alternatives' page is the most visited one after the homepage. The tool or the app you are promoting will be listed both on the top 6 primary positions as a "SPONSORED" one and below the hero.
These premium listings have an extra and prominent green button 'Visit Website', that isn't present on other listings.
This promo includes a simple line with the logo, name, and tagline of the premium product. The name and the logo include a link to the product's website.
The premium product will be listed on the pages of all identified competitors, pages of competitors, and pages of products of similar categories. e.g. If a premium product is in the 'Conversion Apps' category, it will be promoted on the pages with alternatives to all other products listed under 'Conversion Apps'.
PRICE: $390 USD/mo
3. Suppliers Page
There are 3 promo sections on our Suppliers pages.
First, at the bottom of the hero, we list 6 Suppliers or Relevant partners that are listed in the target category or categories similar to it.
Second, the first 6 positions are reserved for sponsored listings, too. That's the same as with 'Ecom alternatives' pages, explained above.
Third, The first three premium positions in every Supplier Category are reserved for Sponsored Partners that are taking the most "real estate" on the screen (all the information and contact from one Verified Supplier or relevant partner).
The list with relevant categories that a product is promoted to is updated every day and depends on the main categories you've listed the product under.
PRICE: $390 USD/mo
4. Featured Page
All premium partners are listed on our featured partner's section which is accessible from the top navbar (main menu) of every page.
That premium products page includes both manually picked and premium partners. We will also include the top 3 Partners from this section on a small dedicated banner on the Homepage.
Products are ordered by the length of time they have been premium members at dropshipping.com. i.e. the longer a partner stays premium, the higher on the list it is positioned.
PRICE: $450 USD/mo
5. Reviews, Compare Pages and Alternatives Pages
Premium partners are also promoted on our reviews and compare product pages and the footer section that lists products similar by different categories or filters – "People that viewed XYZ also viewed"; "Alternatives in the same category"; "Partner1 vs Partner2";.
This promo includes: one review article for your company written by our team (the product, the service, tool, app, or new idea); an option for creating a comparison article with another competitor in the same niche, and/or including your company in the "Alternatives" page, filtered by unique parameters for every category that you can fit in.
Again, your product will be promoted only on relevant pages, and if there is more than one targeted premium product, they are rotated on each page view.
PRICE: $350 USD/mo
6. Newsletter Promo
Last but not least, all premium products are included in our weekly newsletter – "Dropshipping.com".
Two premium partners from different niches will be featured two times in our weekly newsletter.
First, we are sharing a complete company or product overview with all the necessary info and links included. Second, we are mentioning your company or product in our listings newsletter series alongside hand-picked favorites from different niches (labeled as: our top recommendations).
PRICE: $450 USD/mo
🥈 Silver Package
📰 Submit a Guest Post
We are looking for posts that provide actionable advice for solopreneurs, dropshippers, and small business owners. If you have an idea for a unique post that will inspire our readers, please read our guest post guidelines and contact us for more information.
PRICE: $180
---
🔎 Let Us Review Your Product/Service
Do you offer a product or service that helps entrepreneurs start, run, or grow their businesses? Let us or one of our customers test-drive your product. We'd be happy to provide honest feedback, blog about it, and generate buzz for your business.
PRICE: $240
---
📈 Co-Create & Co-Market an Infographic
Got an awesome idea for an infographic that will inspire dropshippers? Let's create one together, co-brand it, and co-market it. You provide the data, our designers will create the imagery.
PRICE: $190
---
👀 Let Us Feature You In Our Newsletter
If you're interested in being featured in our newsletter as a service that helps dropshipping store owners grow, please contact us for the details.
PRICE: $260
---
🎤 Let Us Interview You
Do your customers or colleagues have a story that will teach or inspire dropshippers? We'd love to interview you and feature you in our success stories blog section.
PRICE: $120
---
Does your company have a free or inexpensive tool that will help bootstrappers start, run, or grow their own businesses? If so, we'd love to list your tool in our major directories. NOTE: This is a feature without a priority placement.
PRICE: $240
---
✅ Get the whole SILVER PACKAGE for $990
Your product/service is in good company. We put our heart and soul into our content—whether it's the content of our blog posts, products, or email campaigns—so you can feel confident knowing that your brand name will be a part of the value that we provide our audience on a daily basis.
We offer spots for this advertising option on a first-come-first-served basis, so if you're looking for the best way to expose your app, tool, service, or resource to an interested and targeted group of e-commerce entrepreneurs every day, then you'll want to secure your spot for our Blog Takeover, Email Subscription Sponsorship or the Gold Package Ad Placements as soon as possible. The sooner we hear from you, the closer to the top of the list you'll be.