Interview: "From 10K to 30 millions in 30 months"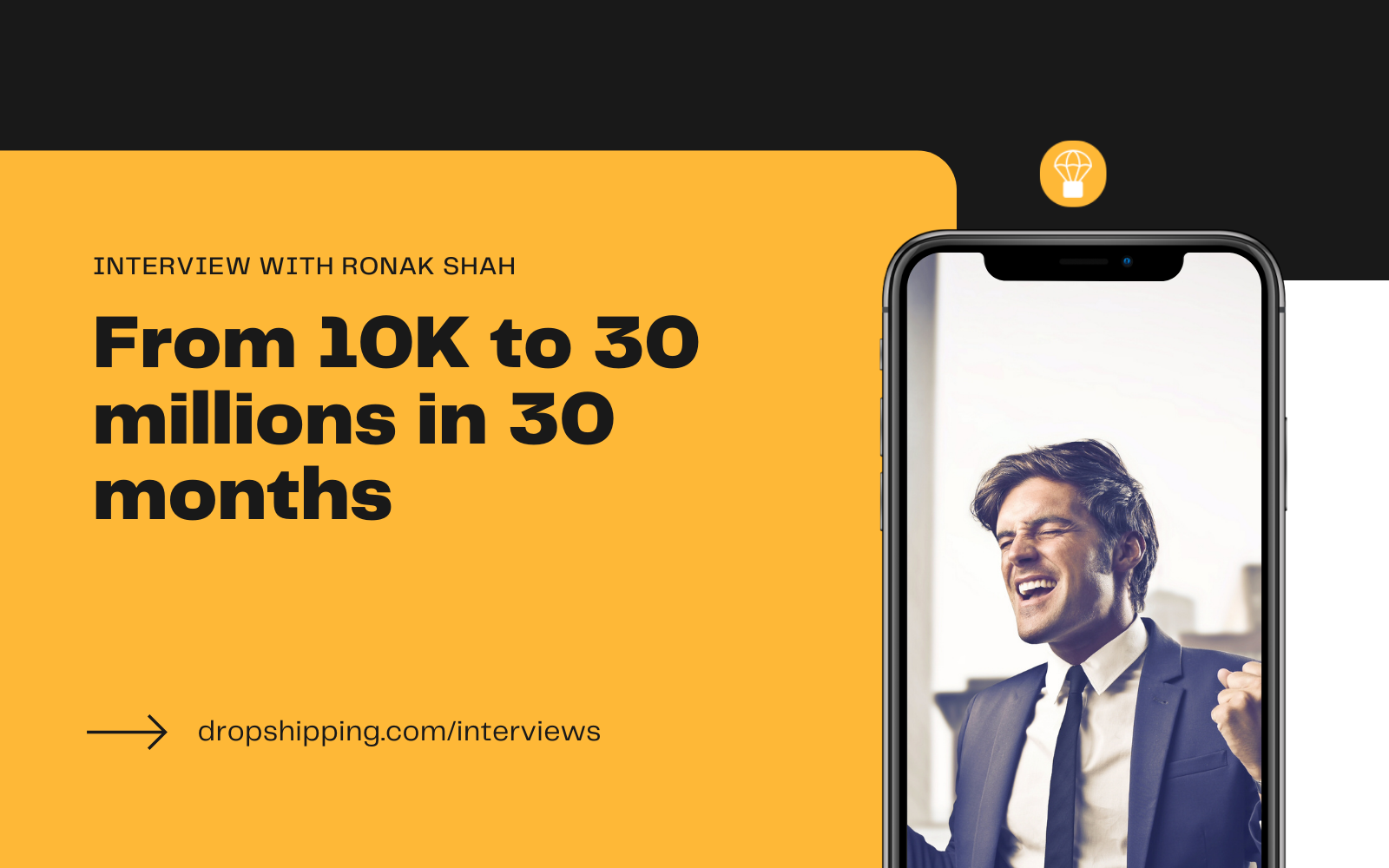 Marko Girovski
We are learning from Ronak why having a good plan is always profitable on the long run.
App/Company name:
Obvi
Website
Obvi wasn't a random idea born overnight. In fact, Obvi comes with a lot of history, 6 years to be exact! The three of us co-founders, who double as best men at each other's weddings, have been working in the health and wellness space servicing other brands with our unique skill sets for the last 6 years

Sharing Success Stories with Ronak Shah

Disclaimer: all the success stories published on our blog are the results of written interviews. Even though the editors may make some minor changes to the grammar, spelling, and/or punctuation, the respondents' writing styles, views, opinions, stores screenshots and personal photos are left unchanged.

The Dropshipping.com Team
Describe your business/service in a few words:
At Obvi we focus on developing healthy supplements that make you look and feel good inside and out but also making sure we never sacrifice taste and efficacy.
Describe your e-commerce journey. How did you enter the space?
Obvi wasn't a random idea born overnight. In fact, Obvi comes with a lot of history, 6 years to be exact! The three of us co-founders, who double as best men at each other's weddings, have been working in the health and wellness space servicing other brands with our unique skill sets for the last 6 years. We always wanted to start our own brand in the wellness and nutra-cosmetic space but wanted to take years to learn what to do & what not to do while studying other brands. We saw an opportunity to disrupt the nutra-cosmetic category in 2019 so we jumped right into R&D. We saw the double digit rise in the collagen market, but we also saw it was lacking something. How can something that is proving to be an imperative product for all of us to supplement in our bodies look so boring and "unflavored". With 90% of the market for collagen being built around "pharmaceutical" looking brands and unflavored products, we believed that we could bring excitement, youthful fun, and playfulness through combining flavor and high-quality ingredients in the category. People are constantly looking for supplements that taste good and we wanted to bring that to the collagen space.
Collectively, the three of us lived in 500 sq ft apartments and always undervalued our skillsets by providing the best value to the client. Evidentially, we never built wealth before it came time to start Obvi. We had $3,000 each to put into starting Obvi. Our initial PO was $8,900 and we went all in. Fast forward 30 months, for a bootstrapped business that started with a $9,000 investment, I'd say $25,000,000 in sales is not too shabby. It was gut wrenching to start a business where we had to make money AND profit from day 1 since we had no experience with raising capital and no additional capital commitments. However, we trusted that our skillset and visions is what we're really betting on here. It's been one of the most fruitful experiences to bet on yourself.
How your business is helping the e-commerce owners?
Breaking stigmas is something I have been doing all my life. Being a first generation Indian American, I've always had to think a little harder and work a little differently on how to come up with my solution for almost everything; this truly served as the roots for me entrepreneurial spirit. From early on, I learned to ask more questions and probe for more answers, often leading me to paths of persevering new journeys.
I set out on a journey to build Obvi, a brand that normalizes collagen as part of our daily diets without sacrificing taste and convenience. Upon our launch in June 2019, I told myself one thing, "no matter the growth or revenue, we want to educate first, empower second, and provide third." Fast forward 30 months, Obvi has broken through the stigma in 250,000+ homes across 75+ countries globally. With $25 Million+ in revenues, we've been able to educate our customer base on why collagen is as important as any other protein source. With a growing community, we have empowered 45,000+ customers and fans to converse in real time about their results with Obvi, both good and bad, making a true social impact.
Building Obvi has required us to take risks we didn't think we would encounter. For example, we secured a licensing deal with Entenmann's which costed us $150,000 upfront. We didn't have the money for this so us owners let our salaries go for 6 months to make this brand equity play possible and in turn it has paid off 10-fold over. Without raising any capital, every dollar we spent needed to make $3 and we would watch our sales and spending sometimes by the HOUR to make sure we find ways to achieve success since we had no other choice but to make this work within our means. Fighting through the struggles of covid led supply chain issues required us to dish out more capital to prepare for the worst. One thing that never changed was our resiliency to overcome any challenge we face because we didn't stop believing in the impact Obvi was going to make.
What is the most significant challenge dropshippers are facing today?
Competition.
What was the game changer to enter dropshipping or e-commerce business as a service provider? What are your future plans?
The woman that was left behind in a new world is the woman I built Obvi for. The new world is a wonderful place with brands and services catering the entire world in a more sustainable and "cleaner" way. Most brands today share characteristics like keto friendly, have a sustainable narrative, gluten free, sugar free, all natural, vegan friendly, non-gmo and although all the above are great claims and huge benefits to our bodies and this planet, we are forgetting that this shift is leaving women behind who are still struggling with everyday problems like eating fast food or candy bars or simply not working out at all. We committed to building a brand that will help the woman who felt left behind by giving her products that work well, taste good and make them feel even better. Today, when I talk to my customers, I know the impact we have made through the testimonials they provide.
For the last 18 months, I call our top 100 customers every quarter. I talk to each of our community members in our Facebook group. I want to understand what they want and how I can make it come alive. The entire brand is built on a consumer centric level. Besides the first 2 SKUs we launched, the following 24 SKUs were chosen by our customers and community via a survey. We epitomized the idea of building a brand centered around our purpose and vision to serve to the forgotten few.
What's your best advice for both dropshipping beginners and experienced e-commerce owners?
Bootstrapped and profitable with YoY growth of 300%+. What sounds like a mouthful of numbers and words is something that we hold up to our chest with a lot of pride. I've had to force our mindset to take on growth that was wilder than our imagination these last 2.5 years. Sometimes, you think you're going too fast too high and enter unchartered territory almost daily. It has been one of the most exhilarating processes of growth I have ever been a part of.
We study our customer base down to where they are from and why they bought us over a competitor. We have learned that loyalty in today's market comes from fast paced innovation, so we had to bring the heat every single year. We won brand of the year in 2021 by Stack3D and one of the leading measures was we were the only brand in our market and space to do 26 launches in 12 months.